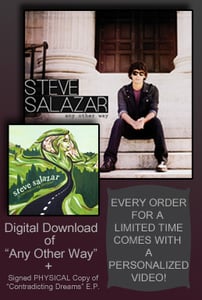 $

9.99 - On Sale
With this purchase, you will receive the following!
Full Digital Download of Steve's new album "Any Other Way" sent to the email you provide on Paypal!
The album features 9 NEW songs:
1. Night of Our Lives
2. Let Go
3. I'd Wait Forever
4.10:09
5. This is Me
6. Live a Lie
7. Love You Again
8. Be Happy
9. Any Other Way
Signed Copy of "Contradicting Dreams" E.P. which features:
1. Chloe
2. Contradicting Dreams
3. Find Yourself
4. Contradicting Dreams (Remix)
5. If you Knew
6. Everything I Ask For (Cover of "The Maine")
7. She's a Lady (Cover of "Forever the Sickest Kids")
Along with the album download and Signed CD, you will receive a personalized video from Steve (also sent to the email you provide on paypal).
Thanks for shopping!